HER STORY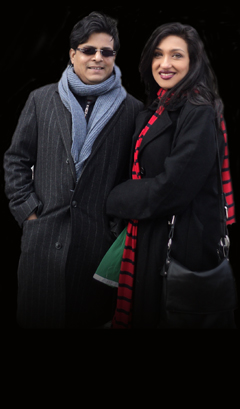 Her Hubby
Ritu & Sanjay Chakrabarty
Rituparna and her husband Sanjay Chakrabarty were childhood sweethearts - a fairytale romance. Their first meeting was quite by chance, at an excursion organized by Chitrangshu, an art school she studied at. At the time, they were both quite young - she was in the seventh grade and he in the tenth. Their first meeting was followed by several exchanges of letters and long, animated, telephone calls. Sanjay was a talented sarod player and Ritu always encouraged him to pursue his musical talents. They became great friends, egging each other on in everything they did.
However, in the course of time, their paths diverged. Sanjay left for the US to study and Ritu got immersed in the film world. It was only after a couple of years (1997) that they met again and their romance bloomed once more.
Sanjay Weds Rituparna
Ritu had never thought about tying the knot, so when Sanjay proposed to her, it changed a lot of things for her. It opened her eyes to a whole new way of looking at the world and at life in general. They were eventually married on the 13th of December,1999 in Calcutta. The wedding was a grand affair and was greeted with an overwhelming response from friends, fans and the film community. This was followed by a dream honeymoon in Australia, the most memorable event being a fantastic visit to The Sydney Opera.
Ritu is extremely proud of her husband's achievements and admiringly cites how he successfully led the team that set up MobiApps - a mobile and wireless high-tech startup. Even though the pressure of their demanding professional lives has kept them apart for extended periods of time, it never affected their relationship adversely. Sanjay's mother, whom Ritu feels is a very flexible and adjusting person, is a constant source of support and strength to both of them.