HER STORY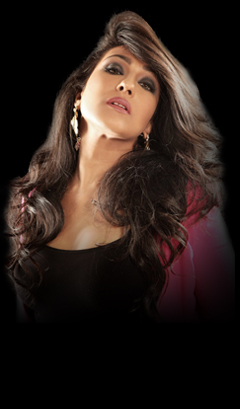 Ascent
The 'reel-life' story of Rituparna Sengupta's succuss reads like a fairy-tale, almost literally so. Rituparna got her first break in a fairy-tale serial called SADA PAYRA (white Dove). That's where it all began for her. After that, she got noticed by Prabhat Roy, an eminent director of Calcutta who she credits as one of her mentors. He offered Rituparna her firest cinematic role in a film called " Swet Patharer Thala" Though it was not a major role, it helped her launch her career on the big screen in a big way. In the film, Rituparna played the supporting role to Aparna Sen. It was a story about two generations and she played the younger generation. The role of a bubbly teenager with all the arrogance so characterisitc of the age. The film bagged four National Awards.
Following the success of 'Swet Patharer Thala,' Rituparna got a good offer from Ananda Bazar Productions to star in Cinemawala, a serial which became very popular. The story was that of a sales girl who followed her dreams and in the course of time became a great actress. " It was a very interesting experience for me", says Rituparna, " because of the similarity it bore to my life. Here I was, a newcomer trying to create a niche for herself in the world of films. My performance got some very positive reviews, which was a very encouraging thing and gave me the confidence to pursue films". However even at this stage, Rituparna was not serious about taking acting up as a career. She did it purely because she enjoyed doing it.
After this, Rituparna started getting many good offers. Her first two films were big hits, one was of course, ' Swet Patharer Thala and the other was 'Sujan Sakhi' (paired with Abhishek Chatterjee). This was followed by a string of successful films like ' Nag Panchami' and Moner Manush', after which she was paired with Prosenjit in a lot of movies and their Journey as a super hit pair began. Rituparna also did films with Mithun Chakraborty before she left for Bombay to do a telefilm with Hema Malini, called MOHINI.
At this point Ritu got to know Partha Ghosh who gave her a major break in Hindi films with a film called 'Teesra Kaun', which was produced by NN Sippy. However Mumbai didn't prove to be very good for her because Rituparna was unfamiliar with the work procedures and culture of Mumbai; which is very different from Calcutta. Besides, Rituparna didn't have the keen competitive attitude which is essential to survive in Mumbai. At that time, she was also shooting for a couple of films in Ooty with Mithun Chakraborty. Most importantly, since she was getting recognition for her wor in Calcutta, she didn's think it would be appropriate for her to hanker after success in Mumbai.
In Calcutta things were working out very well for Rituparna. She had gained acceptance from the public as well as the acting community. She did a lot of work with eminent film personalities, notably Tarun Mazumder, Sandip Roy, Aparna Sen, Swapan Saha, Chiranjit, Raja Sen, Shiboprasad Mukherjee, Aniruddha Roy Chowdhury etc.
As it happens, this period was a very important time for Rituparna, who says, "At this point in my ccreer, I was noticed by a Director from an entirely different genre, Rituparno Ghosh. Meeting him changed the entire flow of my career. It took me to a place where I had never seen myself before. Uptill this time, I had always been seen as a very glamourous actress, but now people started talking of my performance skills very seriously. Rituparno Ghosh changed my image so drastically. He totally deglamorised me in Dahan. The film was very difficult and challenging. Another film that brought out my acting skills to the fullest was Paromitar Ek Din by Aparna Sen.
The twinkling star of tollywood is versatile and intensely committed actress who would love to take the opportunity to play challenging roles all the time. She has travelled miles on her cinematic journey and worked with eminent film makers of India and Bengal like Rituparno Ghosh's "Utsav", Tarun Mazumder's "Aalo" and "Chander Bari", Buddhadeb Dasgupta's "Mando Meyer Upakshyan", Sandip Roy's "Nisijapon", Prabhat Roy's "Shudu Ekbar Bolo", "Tumi Ele Tai" and "Khelaghar", Suman Mukhopadhyay's "Mahanagar @ Kolkata & Chaturanga, Aniruddha Roy Chowdhury's "Anuranan", Shibaprasad Mukhopadhyay's "Muktodhara", Agnidev Chatterjee's "Charulata 2011" & "TeenKanya", Haranath's Chakraborty's "Swasurbari Zindabaad", Ratan Adhikari's "Jamaibabu Zindabad", "Sangsaar Sangram", "Shaka Sindurer Dibbi", " Sotru Mitra" etc all are superhit classics.
She has proved her capability of bringing unique and dynamic quality in her potrayals as an actress, on her next successful journey in the Mumbai film industry acting in big hits like Main Meri Patni Aur woh with remarkable actor Rajpal Yadav by Chandan Arara, Sirf by Agathian. Beside this she has done many good films like "Gauri the urborn" by Akku Akbar, "life express" by Anup Das, "Unns"by Bhupender Gupta, "Dont know why ...Naa Jaane Q" by Sanjoy Sharma, "Bum Bum Bole" by priyadarshan, "Mittal vs Mittal" by Karan Razdan, "And Once Again" by Amal Palekar. She deserves all the kudos for the way she paved her career to reach milestones by implementing various experiments in her career.